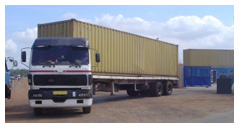 A multimodal transport contract is a single contract for carriage of goods by at least two different modes of transport. A multimodal transport operator is a person who concludes a multimodal transport contract and assumes responsibility for the performance thereof as a carrier.

We at AVION SHIPPING ENTERPRISES PVT LTD. assumes exactly that role of a Multi Modal Carrierthat interconnects different links or modes of transport - land, sea, or air into one complete process that ensures an efficient and cost-effective door-to-door movement of goods under a single roof.

Our comprehensive and high-capacity network allows us to provide you with a fast and flexible service. Our rail, road and sea links allows us to fully serve customers with tailor made solutions to fit their specific door-to-door transportation needs, whether it is small consignments, or Big & Heavy project cargoes.

Multimodal transport is now proving beneficial to the Shippers in terms of increasing flexibility and reducing cost of logistics. More specifically, the benefits are:


Single point of contact : Shipper has to deal with and entirely rely on a single counterparty i.e. the multimodal operator.
Reduces burden of documentation and formalities : A single contract can be negotiated with the MTO. There is a single responsibility and uniform liability regime.
Saves time and cuts pilferage at the points of transhipment : The MTO maintains necessary communication links and coordinates with each party throughout the logistics chain, reducing risks of loss of time, pilferage and damage to cargo at transhipment points.
Reduces cost : The MTO, being an intermediary, can manage to get attractive freight rates. This brings down the overall logistics cost for the shipper and in the long term, increases demand. Indirectly, it also brings down cost of exports making them more attractive.
Makes the best of each mode : It is possible to combine the specific advantages of each mode in the trip such as flexibility of road haulage, larger capacity of railways and the lower costs of water transport in the best possible fashion.